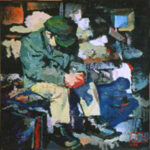 Viktoria Riasnianska
Born in 1974 in Mykolayiv in a family of artists.
Before the war he lived and worked in Kyiv.

Currently lives in England.
Thanks to the incredible support of the local community of artists, she are again able to work.
Viktoria considers her father, people's Artist of Ukraine Mikhail Ryasnyansky, to be the first and only teacher.
Member of the National Union of Artists of Ukraine since 1999.
Education
1989-1992 Odesa Art College named after M Grekov
1992-1998 National Academy of Fine Arts and Architecture (Kyiv)
Exhibitions
Many national and international personal art exhibitions since 1989.
2017 – group exhibition in Ukrainian House, honoured to ESC/WOSC-2017 (Kyiv)
2014 – "Autumn kiss" (Kyiv)
2013 – "Naturemorte" (Kyiv) (S. Galdetska, A. Kryuk, V. Ryasnyanska)
2012 – "Die Sonne über den Dächern" (Berlin)
2011 – " Color of September" (Kyiv)
2007 – "Akuna matata!"(Kyiv)
2005 – "Academy №18" (Odesa)
2004 – "Academy №18" (Mykolaiv), "Argento" (Mykolaiv)
2003 – "Academy №18" (Kyiv)
2002 – Svetlans Anoshkina, Viktoria Ryasnyanskaya personal exhibition (Kyiv)
2001 – Viktoria Ryasnyanskaya personal exhibition (Kyiv)
2000 – 30 years anniversary exhibition of National Union of Artists of Ukraine
1998 – "Dialogs in silence" (Kyiv)
1997 – "Les amis" (Kyiv)
1996 – "Ryasnyanskiy Mikhail, Ryasnyanskiy Yaroslav, Ryasnyanska Viktoria" (Kyiv)
1995 – " Ryasnyanska Viktoria, Drobata Anna" (Vynnytsa)
National youth festival "Pearls of season" – 1st prize (Kyiv)
1990 – first personal exhibition (Odesa)